Warning
: preg_match(): Compilation failed: invalid range in character class at offset 4 in
/data/a/7/a7be6d65-ca1f-4d21-baa8-e5f3970f4451/kalashnikov.hu/web/wp/wp-content/plugins/lightbox-plus/classes/shd.class.php
on line
1384
Warning
: preg_match_all(): Compilation failed: invalid range in character class at offset 4 in
/data/a/7/a7be6d65-ca1f-4d21-baa8-e5f3970f4451/kalashnikov.hu/web/wp/wp-content/plugins/lightbox-plus/classes/shd.class.php
on line
700
Warning
: Invalid argument supplied for foreach() in
/data/a/7/a7be6d65-ca1f-4d21-baa8-e5f3970f4451/kalashnikov.hu/web/wp/wp-content/plugins/lightbox-plus/classes/shd.class.php
on line
707
Warning
: preg_match_all(): Compilation failed: invalid range in character class at offset 4 in
/data/a/7/a7be6d65-ca1f-4d21-baa8-e5f3970f4451/kalashnikov.hu/web/wp/wp-content/plugins/lightbox-plus/classes/shd.class.php
on line
700
Warning
: Invalid argument supplied for foreach() in
/data/a/7/a7be6d65-ca1f-4d21-baa8-e5f3970f4451/kalashnikov.hu/web/wp/wp-content/plugins/lightbox-plus/classes/shd.class.php
on line
707
Zoltán SZŐRÖS – Ivan JANSE
Hungarian AK modernization 2012
Summary: After a very long process, the modernization of the Hungarian Kalashnikovs could finally begin. Up to the beginning of last year around 100 rifles were modernized but then the modernization process seemed to be coming to a halt.
This article is based on last year's Hungarian language articles regarding this topic.
The Hungarian modernization is based on the Hungarian Armed Forces' basic rifle, the AK-63F type Kalashnikov. The modernized variant is called the AK-63FM.
This article attempts to describe the reasons leading to this modernization, and the rifle modifications themselves.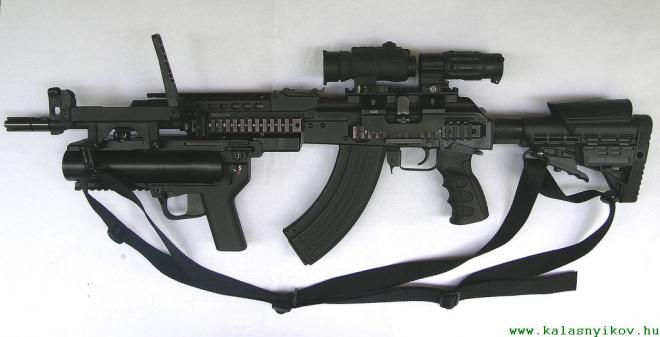 The main dilemma: modernizing or purchasing an alternative rifle.
There are many advantages and disadvantages linked to both solutions. Hereafter I try to touch upon a few.
The ammunition is an important factor in any decision.  NATO uses the 5.56×45 mm caliber as its standard ammunition, whereas the AKs and AKMs mostly fire the 7.62×39 43M ammunition. It might be seen as a potential tactical and logistical advantage if Hungarian troops could use NATO standard ammunition during certain joint missions with allied forces (US Army etc.). This problem could however be solved if Hungarian armed forces were to get a stock of M16 assault rifles and M4 assault carbines. 5.56×45 mm ammunition would need to be purchased and used for these rifles, but only in limited quantities.
The current AK would however still be the standard rifle of the Hungarian Armed Forces.
To change the standard rifles and ammunition of the Whole Hungarian Army would be an unrealistically big cost, since all the rifles, repairing and training facilities and ammunition factories are set up for 7,62×39 43M ammunition. Furthermore, LARGE quantities would be needed.
Let us also keep in mind that ex-soldiers in Hungary are all trained on AK and its variants. These persons would be a potential reinforcement reserve in case of emergency.
I would also like to point out that the ballistics of the 7,62×39 mm 43M PSZ ammunition are superior to 5,56 NATO ammunition for target engagements  at ranges superior to  200 meters.
Engagements in the below 100 meters range show a different story.
Currently, the most important NATO member – USA – is looking for a new caliber to replace the 5,56×45 mm round. In their new assault rifle/ammunition tenders, calibers such as 6.5 mm Grendel or 6.8×43 mm Remington SPC are mentioned. So changing our main ammunition to 5.56×45 mm which might be abandoned  by its main user, the USA, is not the best investment.
The reason for this quest for a new round can be traced back to the recent Afghanistan conflict, which made it painfully clear that the 5.56 NATO round is not performing equally well on all occasions. Many rifles chambered for the old 7.62×51 were therefore revived from their storage locations, overhauled and modernized to be able to deliver sufficient punch at long ranges against Afghan mud-walled huts.
Using the 7.62×51 mm round also provides the troops an adequate answer to Afghan militia using weapons firing the 7.62×39 or 7.62x54R rounds.
We see a similar picture in Africa, where Kalashnikov is a better known word then Vodka and the AK assault rifle is part of the everyday life. Every tribe uses it on a daily basic and life is smiling at them because the price of a Chinese Type-56 is down from twelve cows to six cows nowadays.
Ammunition logistics speaks for itself in these circumstances. No logistics officers are needed to solve this issue.
The conclusion is: to change our 7.62 caliber Kalashnikovs is not the best idea, because such a big investment cannot be justified and would not necessarily lead to the best solution.
But this does not mean that we should not accept any gift of M16s and M4s and use their ammunition.
A complete changeover would however not be possible.
But there is one more issue beyond the choice between changing or modernizing our current rifles.
Hungary does not have any operating weapons factories anymore. Unfortunately, after the 90's it was decided to do away with all weapons producing facilities.
Hungary's neighboring countries such as Czeh Republic, Slovakia, Croatia, Romania and Austria or Poland on the other hand kept their weapons factories or even established new factories.
To establish a new factory from scratch is virtually impossible.
It would be a long and expensive process, not sufficiently economic for a few thousand rifles.
To purchase something abroad is not economic either, because we spend our tax-payers' Forints in another country.
But we CAN modernize; we have all the necessary techniques, know-how and technology to carry out such a modernization
We have a large available supply of unused donor rifles. Hence a modernization is the only possible solution in today's grim economic situation.
So at last, a NATO-sponsored tender was successful and we start to modernize our Kalashnikovs.
The details of the Hungarian Kalashnikov modernization.
For those who have not yet seen the modernized Kalashnikov.
The first modification is a Picatinny rail on the left side of the rifle housing.
To this rail another Picattinny rail which goes to the top of the rifle can be attached.
To this top rail a Red Dot and a 3x zoom optic can be attached.
This allows the soldier to hit a human size target from 300 meters for the first shot.
Of course the original steel sights are kept as back-up sights.
For special operations the new optics on the rail can be changed into night vision too.
The original hand guard has been replaced with a new one, featuring three sided Picatinny rails. To those rails a new vertical front grip can be attached, even combined with a foldable bipod in the bottom, or laser, infrared aiming device, tactical light or  any other device.
Under the barrel the soldier can attach the offered 40×46 mm grenade launcher.
The original grip has been changed into an ergonomic version too, and the safety lever is now ambidextrous thanks to the addition of an extra lever on the left side on the housing.
The original butt stock has been replaced by a new version which includes a recoil amortizer. The length and height of the butt stock can be set by the soldier as he desires.
The flash suppressor is much more effective than any of the old types, which makes the weapon compatible with night vision aids and helps to control the rifle during shooting.
On the downside : only a few hundred rifles have so far been modernized – a so-called test series – whereas several thousands of rifles should be modernized. OK, we have a small Army with a small number fighters, but not this small!
Another problem is the weight. Every new attachment to the rifle also represents surplus weight, not matter how light the add-ons might be
With full extra furniture this rifle could be too heavy.
The "0" series were tested in 2010/2011 in Táborfalva in the presence of the expert Dr. Ferenc Földi, who also helped me with this article's Hungarian version.
In 2012 the troops tested the weapons and in 2013 we could see pictures from Afghanistan, where our troops used them in active duty.
I strongly hope that we will use the learnings of these tests and that we will continue the modernization.
We cannot look into the future, but unless the Hungarian Army has to strongly increase its number of soldiers, this modernization could help us solve our problems with our  current rifles.
After the lifespan of the modernized rifles we will be able to see which will be the most successful from the next generation of rifles: FN Scar, AK-12 or another design. But until then, we can win some time IF we can continue this modernization and can provide our troops with a sufficient number of these rifles.